Member Marketplace
Community members:
Member marketplace gives you access to Chamber member offerings at highly discounted prices. Look at the very top in the header and click on 'Marketplace.' In addition, 'Hot deals' are right beside the listing as well.
This is a digital version of the
newspaper advertising component
the Chamber offers. The Member Marketplace will save members money, help grow business relationships, and even connect your business within the community. Here are some of the features you will receive when you use the Marketplace:
Post as many offers as you'd like
Only Chamber members may sell.
You may ask the one-worded question: Why? Here are the highlights of this new tool that will be available to you:
Member Marketplace isn't a "deal of the day" program – you can post as many offers as you want at any time
Save substantially on products and services you need to run your business
Offers can be viewed and reserved by the entire community but only members can sell on Member Marketplace.
There's no online purchasing and no minimum inventory required.
Contact:
Amy Alexander , Director, Marketing and Communications
(972) 792-2812 ; amy@richardsonchamber.com
Let the Chamber help you advertise -- in print or online.

Click the links below to learn more about advertising options:
Dallas Morning News ads

Hot deals listings

Dallas Morning News ads
The Chamber has partnered with the Dallas Morning News to offer affordable advertising as part of our Member Marketplace. If you've never advertised with the Dallas Morning News before, now's your chance. These ads of several sizes will appear in the Neighbors Go Richardson/North Dallas/Lake Highlands edition of the paper. Get more details from Amy Alexander (amy@richardsonchamber.com).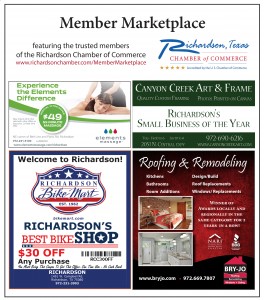 Hot deals listings
Everyone loves a good deal. The Chamber can help make sure everyone knows about it. Feature your best deals and sales in the "Hot Deals" section of the Chamber website. It's quite simple! Simply upload your "virtual coupon" information, and let everybody know what's hot this week.

Chamber weekly calendar emails
Get your business in front of the thousands of people on the Chamber's weekly calendar emails. Whether you choose to include an articles, member news, or want to just place an ad or logo in the left column, you'll get the word out to lots of eyes! Ads are available for just $150 per week ($100 for members) and include a logo and up to 25 words. Send questions or submissions to Amy Alexander at amy@richardsonchamber.com.
Guest writer
Did you know you can write an article for the Chamber newsletter? Share what you think. What topics and news items are important to your industry? What expertise do you have to offer? Tell us about it! Articles and member news may be placed in the newsletters subject to space and editing. Visit our Guest Writer page for details on how you can share your voice to Chamber audiences at Guestwriter.
Put your event on our calendar of events. Chamber members may submit up to 3 events per year to the Chamber online calendar (seen on our home page). Non-Chamber events are noted with an asterisk (*) and are subject to Chamber staff editing and approval. Find out if your event qualifies, or sign up with Amy Alexander at amy@richardsonchamber.com. For instructions on how to set up your event online, click here.